---
Bona Opatich, Director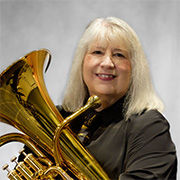 Bona Opatich has been teaching musicians in public and private schools for 30 years. She became the director of the Motor City Youth Brass Band in January, 2011. She currently directs the Saints Band, a combination of students from two Catholic Schools, volunteers at a Salvation Army music camp, teaching young brass players and percussionists and sings in her church choir.
Miss Opatich received her Bachelor of Music Education from Michigan State University and her Master of Music degree from Bowling Green State University, where she was the conductor of the tuba and euphonium ensemble and a graduate assistant.
During her first three years of teaching, Miss Opatich was the K-12 Director of Music in De Tour Village, which is in the Eastern Upper Peninsula of Michigan. Following her master degree, she became Director of Music at Wayne Trace High School in Paulding, OH. She returned to Michigan in 1996 and has continued to teach band in public and private schools. Throughout her teaching career, Miss Opatich has always been an active performer. In 1997, she joined Motor City Brass Band to play English Baritone and has been a member of the board of directors as Secretary, Treasurer and Artistic Committee Chair. Miss Opatich currently plays Euphonium in Motor City Brass Band.
Toby Kmet, Assistant Director
Toby Kmet is currently the band director at Davidson Middle School in Southgate Michigan. Mr. Kmet has been a band director in the public school system for the last seventeen years. He has taught high school musicians for thirteen years and middle school students for the other four years. Mr. Kmet also teaches a number of private euphonium and tuba students, and teaches the Youth Chime Choir at his church. He also volunteers at a Salvation Army music camp, teaching elementary age students how to play brass instruments.
Mr. Kmet graduated from Wayne Memorial High School as the valedictorian in 1993. He went on to receive a bachelors degree in music education from the University of Michigan and a masters degree in music education from Eastern Michigan University.
In addition to his busy teaching schedule, Toby Kmet is also an active performer. Mr. Kmet has been a performing member of Motor City Brass Band since 1998, playing both English Baritone and E flat Tuba. He is currently a member of the brass band's board of directors, and is the assistant director of the Motor City Youth Brass Band. Mr. Kmet also performs regularly with the praise band, choir, and bell choir at the First United Methodist Church of Wyandotte. He has also performed in a number of different pit orchestras for local theatre groups.
---